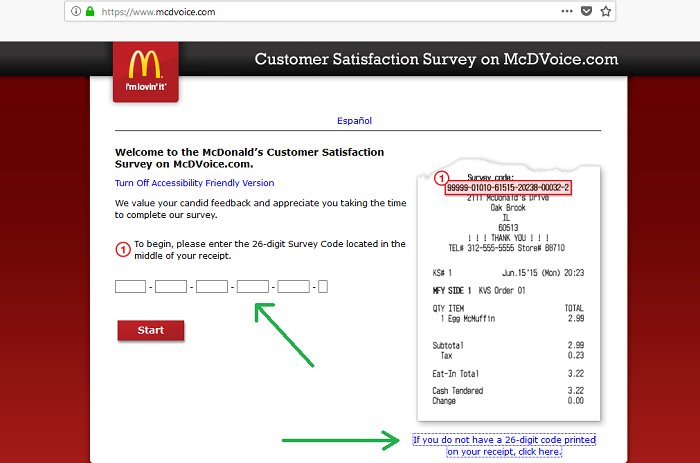 The 1-800 Toll Free Phone Numbers are Updated for 2023!
McDVoice.com Survey.
Win a free Big Mac at McDonald's or 1000$ with the McDonalds's survey.
This is a customer satisfaction survey for current McDonald's customers.
What Can I win at McDVoice.com?
Typically, depending on the current promotion, you can win a free Bic Mac, larger fries or even a 25$ coupon for future purchases at McDonalds.
You will also enter a sweestakes for monthly cash prices of 100$ and a grand price of 1000$.
How Long Does it Take to Fill Out the Survey at McDVoice.com?
It takes around 9-10 minutes to fill out the complete survey, including entering the code on your receipt.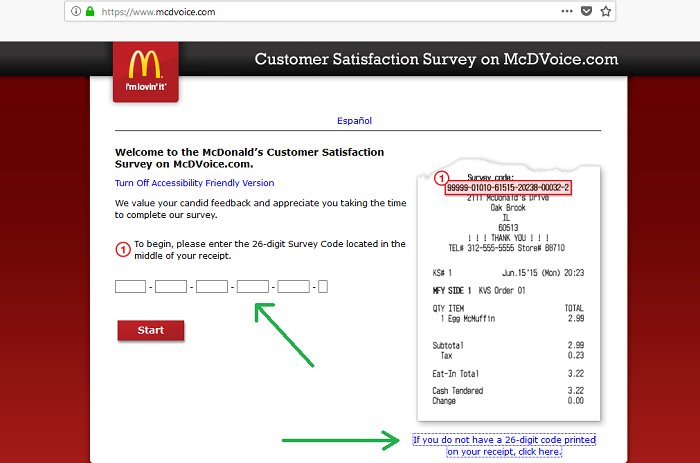 Ok Im Ready, How do I take the McDVoice.com Survey?
It is quite easy to take the McDonald's survey:
Visit www.mcdvoice.com.
Get out the receipt from your last McDonalds visit and enter the 26 digit code in the field and click on Start. Alternatively, enter the store, KS and order number on the receipt.
Choose the date and time of your visit.
Fill in the total amount that you spent. Enter that you are minimum 13 years of age.
Choose order type: Drive-thru, Carry out or Dine-in.
Rate your last visit to McDonald's (Overall Customer Satisfaction).
Rate the order process, then rate as the taste and appearance of your McDonalds order.
Enter how likely you are to return to this location and if you would recommend this McDonald's to friends.
Enter how many people were and if you have visited any other McDonald's restaurant in the last 30 days.
After willing out the survey, you will get a validation code.
Write the validation code code on your receipt and take it with you on your next visit. You will then get a free item.
Contact McDvoice.com Customer Service.
You can contact McDonald's customer service at:
McDonald's Corporation Mail Address:
2111 McDonald's Dr.,
Oak Brook, IL 60523
McDonalds 1-800 number:
1-800-244-6227
7 days a week
7:00 a.m. to 7:00 p.m. CST
Share you experiences with the McDVoice survey in the comment section below.
Click to rate this Company, or, write a company complaint below the page.